Fireborn Studios will be hosting NCECA conference workshops
Flute Making and Playing: Touching Ancient Sounds
March 16, 2018 – Susan Rawcliffe
10:00 a.m. to 5:00 p.m., $85
The workshop will begin with a demonstration of a few of the hundreds of flutes created by Rawcliffe, from simple ocarinas, to Howlers, to water flutes & other multi-chamber and combination tone flutes. Most of these flutes play sounds so ancient they are brand new.
Participants will learn how to hand construct a classic prehispanic design: Aztec Howlers, or chamber-duct whistles; similar designs are found throughout the Meso-American prehispanic world. There are at least 4 different versions of chamber-ducts, depending on the cultural origin and number of interconnected volumes. We will examine a few of them.
To change the howler's sound, the player can blow harder & softer, open & partially close the bottom open end, buzz the lips on the mouthpiece tube, or sing while playing. A Howler can sound like a howler monkey (they were made in ancient times in Veracruz howler territory.) They can sound like a baby crying, a rabbit dying, ghosts, or Donald Duck, from scary to haunting.
Once made using traditional construction techniques, a howler can be decorated in any style. It's an opportunity to combine musicality, acoustics, scholarship and hand-building ceramic skills. Rawcliffe will also share at least one of her scholarly articles, to be used as inspiration for the creation of FUTURE FLUTES!
Rowcliffe has measured and photographed over 300 ancient West Mexican flutes and has received numerous grants to study them. She has performed on and off Broadway and around the world. Her exhibits include the American Museum of Ceramic Art, Pomona, CA; Yerba Buena, San Francisco; Clay Studio, Philadelphia, PA; Winter Gardens, NYC; California Craft Museum, SF; Renwick Gallery, Wash. DC; and P.S. #1, NYC. She has lectured at wats:ON Festival for Interdisciplinary Artists at Carnegie Mellon University, Pittsburgh, PA; the Smithsonian Institution, DC; the Metropolitan Museum, NYC; the Acoustical Societies of America, Mexico & Iberoamerica; the American Association for the Advancement of Sciences; LACMA; the International Study Group on Musical Archaeology, Germany.
LUSCIOUS CLAY: SOFT SLAB WORKSHOP WITH MARION ANGELICA
MARCH 17, 2018 –  MARION ANGELICA, $85
3:00 P.M. TO 9:00 P.M.
Do you love the softness of clay and want to keep that look in your finished work? Learn Marion Angelica's tips and tricks for hand-building with soft slab porcelain. This hands-on workshop will cover the design and use of templates, and students will learn her building techniques by making bowls, pitchers, and trays. Come ready to get your hands in clay and learn new ways to work with porcelain.
Marion's sensual, sinuous soft slab hand built work, design excellence, and complementary glazing result in some of the best work available. Marion Angelica has been hand-building porcelain for over 20 years and has an MFA from SUNY-New Paltz. She has an active studio practice in Minneapolis, MN, teaches at the Northern Clay Center, and offers workshops nationally. Originally trained as a sculptor, she discovered clay late, after working in stone, metal, and wood, and fell in love with it immediately. Her passion is designing and making unique functional forms and her driving question is "What if …."
This workshop will follow the NCECA (National Council on Education For the Ceramic Arts) annual convention, which we are fortunate to host in Pittsburgh for 2018.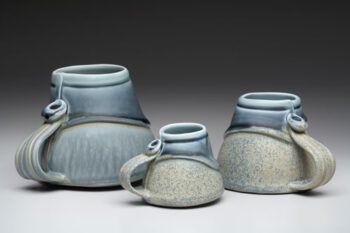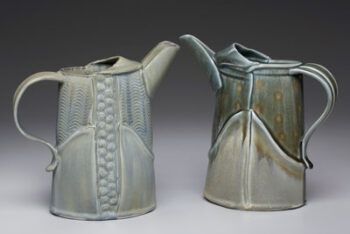 More images of Marion'swork can be seen here.
SCALING UP: THROWING AND SLAB BUILDING TECHNIQUES FOR MAKING POWERFUL, LARGE SCALE WORK.
March 18, 2018 – Joseph Sand, $85
9:00 a.m. to 5:00 p.m.
Joseph is a master of the large vessel. In the morning he will demonstrate traditional coil and throw, using a torch to dry the pot as it gets ever larger and larger. After lunch he will demonstrate his unusual methods for making large slab-built sculpture.
Joseph fires with wood in a forty foot Anagama kiln. See his website.
https://www.josephsandpottery.com/Joseph Sand trained as a sculptor at the University of Minnesota, receiving a B.F.A. with honors in 2006. During his undergraduate courses, he studied art for one year in Italy, followed by another year in England, after receiving a very competitive, college-wide scholarship.  While in England, he worked alongside many prolific potters, including Svend Bayer and Clive Bowen, which heavily influenced his direction as an artist, taking up functional pottery as a means of personal expression.
He completed a three and a half year apprenticeship with Mark Hewitt in 2009 and now resides in Randleman, North Carolina.  He fires his large, wood-fired kiln three times a year, and the majority of his work is sold on his property during kiln opening sales.  Joseph's work is also represented in several galleries across the United States.
His functional work combines the styles of traditional, Southern alkaline glazeware and East Asian design, among others.  Sculptural works are abstract pieces inspired by the natural elements.